Colosseo Metro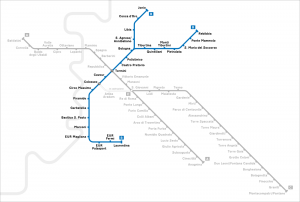 COLOSSEO METRO
METRO LINE C
Line C is a Rome Metro line which runs from Monte Compatri-Pantano in the eastern suburbs of Rome, in Italy, to San Giovanni near the city centre, where it meets Line A. It is the third metro line to be built in the city and the first to be fully automated.
The first section, between Monte Compatri-Pantano and Parco di Centocelle, opened on 9 November 2014. The second, from Parco di Centocelle to Lodi, opened on 29 June 2015. The third, from Lodi to San Giovanni, opened on 12 May 2018. The line reuses parts of the old Rome-Pantano railway, a light railway that is the last remaining part of the Rome-Fiuggi railway.
Route Colosseo
Line C operates on 19.5 kilometers (12.1 mi) of route (of which 8.7 kilometers (5.4 mi) is at grade),[6] and serves 22 stations. Of the entire route, about 11 kilometers (6.8 mi) are underground, while the rest is located in the open air.
Initially, the planned termini were Pantano (a frazione of the comune of Monte Compatri) in the east and Clodio-Mazzini in the north, but in March 2007, a northward extension along the Via Cassia was announced, with nine more stations to Grottarossa. A depot has been built at Graniti. Once construction is complete, the line will cross Line A not only at San Giovanni but also at Ottaviano, and Line B at Colosseo. At Pigneto, a new railway station is currently being constructed on the FL1 line. At the Colosseo stop a public museum was to be constructed in the station to display archaeological material that was excavated during construction, but the project has been scrapped due to the lack of funds. Instead, a portion of the ruins of the barracks used by the Praetorian Guard will be viewable through a large glass window.
The initial plan featured a station at Largo di Torre Argentina in the city center. However, archaeological remains on the site were even more extensive than expected and the station was cancelled.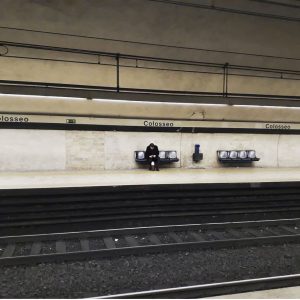 Metro Line C Stations
Laurentina

EUR Fermi

EUR Palasport

EUR Magliana

Marconi

Basilica of St. Paul

Garbatella

Pyramid

Circus Maximus

Colosseo

Cavour

Terms

Castro Pretorio

Policlinico

Bologna

Direction Rebibbia

Tiburtina FS

Quinitiliani

Monti Tiburtini

Pietralata

Santa Maria del Soccorso

Ponte Mammolo

Rebibbia

Ionian direction

St. Agnes / Annibalian

Libya

Conca d'Oro

Ionian