U BAHN BERLIN MAP
u bahn berlin map
U BAHN BERLIN MAP and U-Bahn Lines you need to visit all experiences from Brandeburg Tor, Checkpoint Charlie, Berlin TV Tower, Reichstag and much more. All you need is a Berlin Metro Map (U-Bahn) and Ticket for 6 Euros.
U-BAHN BERLIN MAP (U-Bahn) Map and all lines in Berlin U-BAHN
Here you find all Metro, U-Bahn or SubWay lines i Berlin Town. In Germany called U-Bahn like SubWay in US.
MAP OF GERMANY
A
B
C
D
E
F
G
H
I
J
K
L
M
N
O
P
R
S
T
U
V
W
Y
| Station | Line | Opened | Situation |
| --- | --- | --- | --- |
| Yorckstraße | | 29 January 1971 | underground |
Z
History
BERLIN METRO MAP
Early history
Be­fore con­trol of the U Bahn Berlin net­work was handed over com­pletely to the BVG in 1929, the Hochbah­nge­sellschaft started con­struc­tion on a final line that, in con­trast to its pre­vi­ous lines, was built as part of the Großpro­fil net­work. It was sup­posed to be a branch for the U2, which starts from Kloster­straße in 1908. The E line ran under Frank­furter Allee, for which the com­pany had re­ceived the con­ces­sion in 1914, be­tween Alexan­der­platz and Friedrichs­felde be­fore the World War II.
Long be­fore the sub­way sec­tion of line A from Spit­tel­markt to Alexan­der­platz was opened in 1913, the city of Berlin planned at the be­gin­ning of 1908 that the sub­way would run under Frank­furter Allee from Alexan­der­platz to Frank­furter Allee sta­tion should. The drafts stip­u­lated that the Alexan­der­platz un­der­ground sta­tion should re­ceive two ad­ja­cent plat­forms on the E un­der­ground line. The city of Berlin was open to this pro­ject and de­manded that the en­tire line be run un­der­ground. But the plans of the el­e­vated rail­way com­pany pro­vided that the line from Kop­pen­strasse out of town should be laid out as an el­e­vated rail­way, this was re­jected. In 1910, the el­e­vated rail­way com­pany changed its plans for the U-Bahn line E. Be­cause the line E was sup­posed to cross under Alexan­der­straße to con­nect it with the now ap­proved sec­tion Spit­tel­markt and Schönhauser Allee. So it would have been pos­si­ble that line E would have led via Alexan­der­platz into Kloster­strasse and, if the Kloster­strasse un­der­ground sta­tion had been ex­panded ac­cord­ingly, would have been con­nected to the main line. The trains com­ing from Spit­tel­markt and the trains com­ing from Schönhauser Allee could have passed through to Frank­furter Allee, and also in the op­po­site di­rec­tion. This idea has not yet been im­ple­mented.
The el­e­vated rail­way com­pany had sev­eral pri­vate trans­port com­pa­nies under it­self and so at the end of the 1920s the North-South Rail­way took over the final plan­ning and im­ple­men­ta­tion of the U-Bahn line E as an in­de­pen­dent line in Berlin's large pro­file with the pos­si­bil­ity of ex­tend­ing it to­wards Leipziger Straße/Französis­che Straße and with a con­nec­tion of an­other line to Weißensee in the course of Greif­swalder Straße. The lines should be merged at Alexan­der­platz and sep­a­rate again at Berlin City Hall. The el­e­vated rail­way com­pany orig­i­nally planned to run the E un­der­ground line through Lands­berger Allee, which no longer ex­ists in this sec­tion, from Alexan­der­platz to Büsching­platz. There it should get a train sta­tion, then turn into the We­ber­straße to the south­east and at Straus­berger Platz turn into the Große Frank­furter Straße (today: Karl-Marx-Allee). In 1925, the city of Berlin re­ceived a sug­ges­tion from pri­vate cir­cles to in­sert a 118-me­ter-long arch be­tween Alexan­der­platz and today's Schillingstraße sub­way sta­tion, so that it could get to Große Frank­furter Straße and not plan over Büsching­platz. There was also an­other change in plan­ning. This pro­vided for the un­der­ground line E not to end at Frank­furter Allee sta­tion, but to con­tinue to Friedrichs­felde, be­cause there was an area for a work­shop avail­able there
The con­struc­tion work pro­ceeded since 1927 with­out delay or undue ex­pense, and the first ser­vic­ing sta­tion was es­tab­lished in the east­ern part of the city; the line opened on 21 De­cem­ber 1930, named Line E. The sev­eral sta­tions do in­clude:
Alexanderplatz (interchange)
Schillingstraße
Strausberger Platz
Memeler Straße (today's Weberwiese)
Petersburger Straße (today's Frankfurter Tor)
Samariterstraße
Frankfurter Allee (interchange with S-Bahn)
Magdalenenstraße
Lichtenberg (interchange with Ringbahn)
Friedrichsfelde (end terminus and depot)
U BAHN BERLIN MAP PLACES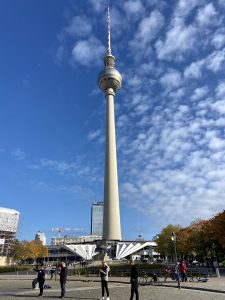 U BAHN BERLIN MAP
Tierpark extension
In the Alexan­der­platz – Friedrichs­felde sec­tion, which was com­pleted in 1930, a con­tin­u­a­tion to Karl­shorst in the di­rec­tion of Schöneweide was planned. After the Sec­ond World War, plans arose to ex­tend the un­der­ground to the Tier­park Berlin, es­tab­lished in 1955. In 1956, plans arose to con­tinue the un­der­ground from Friedrichs­felde un­der­ground sta­tion on two tracks and above ground to a ter­mi­nal sta­tion west of the street at the zoo at the en­trance to Friedrichs­felde Palace. For this pur­pose, two tracks of the park­ing fa­cil­ity of the Friedrichs­felde work­shop were to be ex­tended. How­ever, this pro­ject was not car­ried out be­cause it would have made it dif­fi­cult to ex­tend the route fur­ther. In ad­di­tion, the zoo was not seen as suf­fi­cient for the con­struc­tion of the un­der­ground. When apart­ments were later built in the area of the zoo, the plan was taken up again, es­pe­cially since the clo­sure of the tram line in the Alt Friedrichs­felde street as a re­sult of the new con­struc­tion of the road bridge over the Licht­en­berg sta­tion cre­ated a sen­si­tive net­work gap.
Heavy bomb dam­age caused by Al­lied air raids and in­vaded water at the end of the war se­verely cur­tailed op­er­a­tions in the first post-war months. There­after, the trains of this line had to be sent as repa­ra­tions to Moscow and re­placed ac­cord­ingly. Only in the 1960s were com­pre­hen­sively new trains pro­cured, until 1968 still small pro­file trains were still in use. Line E was the only purely East Berlin line. For a long time, it was planned to ex­tend it be­yond its for­mer ter­mi­nus Friedrichs­felde and to lead via Karl­shorst to Ober­schöneweide. Karl­shorst was es­pe­cially known for its villa colony. There, after the war, the So­viet mil­i­tary ad­min­is­tra­tion es­tab­lished it­self. But both rea­sons were not suf­fi­cient to ex­tend the line E to Karl­shorst. Due to the large de­mand for hous­ing in Berlin, a large part of the con­struc­tion ca­pac­ity was needed for hous­ing con­struc­tion.