Copenhagen Metro Map 2022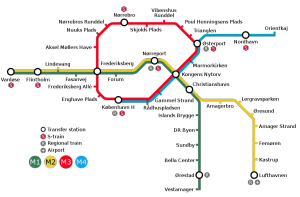 BIG METRO MAP BELOW THIS SITE *
COPENHAGEN METRO MAP – NEW Metro map 2022, Find all Metrostations in Copenhagen or get the app in appstore for free. Copenhagen Metro map in this site (Danish: Københavns Metro, pronounced [kʰøpm̩ˈhɑwns ˈme̝ːtsʰʁo]) is a 24/7 rapid transit system in Copenhagen, Denmark, serving the municipalities of Copenhagen, Frederiksberg, and Tårnby.
The original 20.4-kilometre (12.7 mi) system opened in October 2002, serving nine stations on two lines: M1 and M2. In 2003 and 2007, the Metro was extended to Vanløse and Copenhagen Airport (Lufthavnen) respectively, adding an additional six plus five stations to the network. In 2019, seventeen stations on a wholly underground circle line, the M3, was added bringing the number of stations to 37.[4]
The driverless light metro supplements the larger S-train rapid transit system, and is integrated with local DSB and regional (Øresundståg) trains and municipal Movia buses. Through the city centre and west to Vanløse, M1 and M2 share a common line. To the southeast, the system serves Amager, with the 13.9-kilometre (8.6 mi) M1 running through the new neighborhood of Ørestad, and the 14.2-kilometre (8.8 mi) M2 serving the eastern neighborhoods and Copenhagen Airport. The M3 is a circle line connecting Copenhagen Central Station with Vesterbro,
Frederiksberg, Nørrebro, Østerbro and Indre By districts. The metro has 39 stations, 25 of which are underground.
In 2019, the metro carried 79 million passengers.
METRO STATION COPENHAGEN
Amagerbro M2
Amager Strand M2
Bella Center M1
Christianshavn M1 M2
DR Byen M1
Enghave Plads M3
Enghave Brygge (G)
Fasanvej M1 M2
Flintholm M1 M2
Forum M1 M2
Frederiksberg M1 M2 M3
Frederiksberg Allé M3
Femøren M2
Gammel Strand M3 M4
Havneholmen (G)
Islands Brygge M1
København H M3 M4
Kastrup M2
Københavns Lufthavn M2
Kongens Nytorv M1 M2 M3
Lergravsparken M2
Lindevang M1 M2
Mozarts Plads (G)
Marmorkirken M3 M4
Nørreport M1 M2
Nuuks Plads M3
Nørrebros Rundddel M3
Nørrebro M3
Ny Ellebjerg (G)
Nordhavn M4
Orientkaj M4
Poul Henningsens Plads M3
Sundby M1
Sluseholmen (G)
Skjold Plads M3
Trianglen M3
Vanløse M1 M2
Vestamager M1
Vibenshus Runddel M3
Ørestad M1
Øresund M2
Østerport M3 M4