Metro Vertican City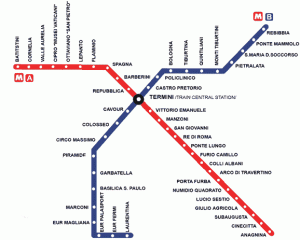 Metro Vertican, Line A Rome
METRO LINE A ROME
Line A (Italian: Linea A) of the Rome Metro runs across the city from the north-west terminus of Battistini to the south-east terminus at Anagnina. It intersects with Line B at Termini and with Line C at San Giovanni. The line is marked orange on metro maps.
Normally very crowded, Line A is estimated to transport nearly half a million people daily.
Metro Vertican
Rolling stock Rome
The first rolling stock used on Line A was the MA100 series trains running in 4-car formation, later increased to 6 cars due to increased passenger demand.
In the late 1990s, the MA200 series began operation on Line A and was the first Rome Metro train type to use three-phase asynchronous motors with electronic drive as its traction system. The MA200 series was however prone to technical problems and was originally intended only for Line B before being transferred to Line A.
In January 2005, the MA100 and MA200 series began to be replaced by new design, air-conditioned S/300 trains, built by the Spanish company CAF (Construcciones y Auxiliar de Ferrocarriles), identified as MA300 series by ATAC, operator of the Rome Metro. Because of this the MA100 and MA200 series have been transferred to the Rome-Lido railway.
The S/300 trains today make up the larger share of Line A's rolling stock. They also are some of the first cars to feature automated announcements.
Metro Vertican City
Line A Orange
Line A runs from the northwest to southeast, from Battistini to Anagnina. The most important stops are the following:
Cipro – Musei Vaticani: The closest stop to the Vatican Museums and to the Sistine Chapel.
Ottaviano – San Pietro: This station is a few minutes' walk from St. Peter's Square and St. Peter's Basilica.
Spagna: Very convenient for visiting Piazza di Spagna and Villa Borghese.
Barberini – Fontana di Trevi: This station is five minutes away from Trevi Fountain It is also the closest station to Piazza Navona and the Pantheon.
Termini: Stops at Roma Termini railway station. Here, visitors can take the Leonardo Express to get to Fiumicino Airport.